8 Kid Friendly Wardrobe Ideas
Not all wardrobes are kid friendly. The doors are too hard to open, the shelves are too high or too shallow, drawers are too deep or kids can't reach where their clothes are hanging. A part of children's growth and development is building independence and the wardrobe is an important part of that growth, allowing them to access their toys on their own and giving them the opportunity to access their clothes so that they can dress themselves. For parents, having a functional kid friendly wardrobe is also essential for clutter-free living.
So what does make a great kids wardrobe that addresses all of these factors? Chris from Urban Accent has loads of experience building wardrobes and was kind enough to put together some great ideas.
Baskets & storage Bins
It's amazing how much you can de-clutter by simply placing toys, clothes and other belongings into baskets or storage boxes. Not only do baskets and bins conveniently hide the potential mess away in a jiffy, they are a great way to make the most of limited storage space.
Open shelving
Open shelving makes it much easier for children to access their belongings and is a great way to help keep their room tidy because it is easier to put things away. For those belongings that are accessed regularly like toys and current clothes, lower shelves are the best option. You can also opt for higher shelves out of children's reach for seasonal clothes.
Shallow drawers
Again it's all about easy access for kids. Deep drawers can often make it hard for children to see the clothes at the bottom of the drawers and clothes end up in a jumbled mess. Shallow drawers and short stacks of clothing means quicker dressing for kids and less re-folding for mum.
Symetrical design
It's quite common these days for children to share a room and therefore a wardrobe. To minimise the occurrence of any disagreements on who has the most room or the better closet, consider a symmetrically designed wardrobe where each child has their own area.
Storage labels
Labels on drawers and storage boxes are the best way to identify each kids domain and ownership. Use big bold labels on colour coded boxes to help avoid world war III in your home.
Adjustable clothes rods and shelving
Adjustable clothes rods and shelving is a perfect way to make a wardrobe flexible for growing kids. As they grow taller you can move the rods up, as they become old enough to access their own toys, you can move shelves downward and vice versa. Try to keep clothing rods to a minimum in young childrens wardrobes too, it's much easier for kids to put away their folded clothes into a basket or drawer.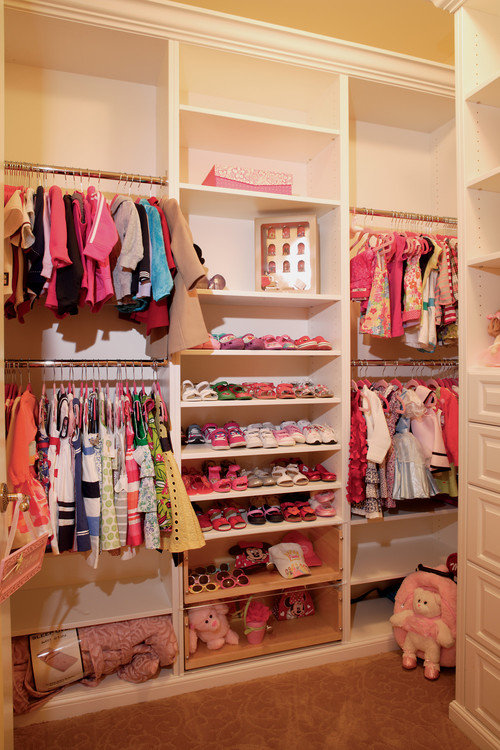 Get Creative
This is the fun part. A wardrobe can be much more than a wardrobe with some really simple additions. Just think of your child's bedroom theme or their interests are and play along. For example, if your child likes basketball, perhaps you could install a basketball hoop above their clothes hamper. Your child may be lucky enough to have a small walk in robe which you could turn into a secret hideaway.
Create a wardrobe inventory
And lastly, once you've got your kids wardrobe designed and storage in place, the best thing to do is get rid of outgrown clothes and unused toys and inventory everything that you want to store.
Not only are these ideas for kid friendly wardrobes, they're parent-friendly too and will have you stepping on less lego, walking over fewer toys and potentially having to put away fewer clothes because the kids enjoy doing it so much! Or is that wishful thinking?
Thanks for sharing your ideas, Chris!
Eva is the Editor and Owner of The Multitasking Woman. She always has her fingers in many different pies but wouldn't have it any other way. Eva is a freelance writer, a social media manager, a Mum to her six-year-old son, one-year-old daughter, six chickens and Benny the dog and wife to Mr G. They all live happily in their little worker's cottage in Ipswich, Queensland, Australia.
Latest posts by Eva Lewis (The Multitasking Woman) (see all)
Comment with Facebook
comments